Scope
In recent years, it has become possible to search for new materials and substances by use of information technologies such as Artificial Intelligence. Materials innovation that fuses cyberspace and real space, which is a different dimensional aspect from conventional material development research based on experiments, is just taking place. The value expected in this new tide is to respond promptly and appropriately to the aging of the population, globalization, and environmental changes. The ultimate goal of the entire human race is the "sustainable society", and isn't it the creation of a foundation that will realize this? At the MRS-J meeting 2020, we discuss on the multi-disciplinary research that enables the search for advanced materials, the exploration of new functions, and the creation of new processes, which are needed for creating new sense of values of materials. We hope that materials innovation will lead to innovation in Japan's industry, and that this will lead to a higher quality sustainable society.
News
18 Jan. 2021

18 Dec. 2020

Part of oral presentations' videos (symposium K) are opened at the program page in My Page. *Those who have completed registration can access to them until noon,Dec. 25.

12 Dec. 2020

30th annual Meeting has ended.Please wait until the Encouragement award is announced.

7 Dec. 2020

Presentation URL has been released.Please see from MyPage.

2 Dec. 2020

Abstract information has been released.Please see from MyPage.

11 Nov. 2020

Re-extension of Deadline for the Digest submission: 24:00JST, 13 November.

31 Aug. 2020

We are deeply sorry for the inconvenience of the abstract submission due to a system trouble. It is now restored.

28 Aug 2020

21 Aug. 2020

Deadline of abstract submission has been extended to 28th 17:00JST Aug.

19 Aug. 2020

The Digest of 2 pages written in English has to submit for the review of Award for Encouragement of Research. This has been started from 30th Annual Meeting of MRSJ.

29 Jun. 2020

Annual Meeting will be held ONLINE.

10 Jun. 2020

15 June 2020

10 Jun. 2020

Please note that there is a possibility of ONLINE meeting this year.

18 Mar. 2020

Annual Meeting website open.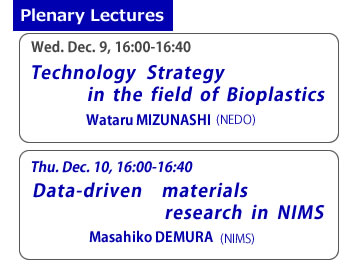 Contact us
MRS-J Office
B123, Industry & Trade Center Bldg., 2 Yamashitacho, Naka-ku, Yokohama, 231-0023 Japan
FAX:045-263-8539
E-mail: meetings2020@mrs-j.org